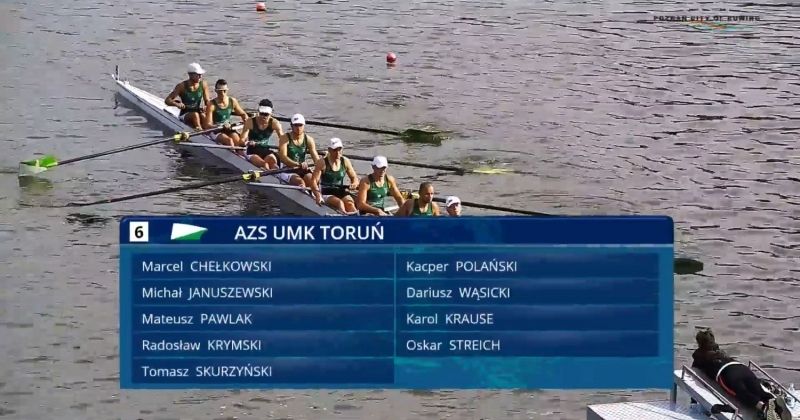 Sports
Five medals in rowing
— Editors
The Enea Polish Championships were held in Poznań Malta. During the weekend from 19 to 20 September 2020 numerous medals were awarded in twenty competitions. Students from our University, dual career program participants, were awarded with one silver and four bronze medals.
The NCU Sports Association (AZS UMK Toruń) representatives held the sixth place in the medal classification of the Polish Championships.
The silver medal was won by the male eight with coxwain. The NCU crew included Michał Januszewski (a student of law), Karol Krause (a student of sport and wellness) and Oskar Streich, a freshman. The competitors' time was 06:23,01, and thus, they had to accept the superiority of the Posnania RBW Poznań crew which finished with the 06:11,99 time.
The third place on the podium was occupied by Agata Zielepuha (a student of international studies) i Katarzyna Malinowska (a student of sport and wellness). The four without coxwain represented by the above students (AZS UMK Toruń) was defeated by the LOTTO Bydgostia (2nd place) and AZS AWF Gorzów Wlkp. (1st place) crews.
In the Polish Championships, bronze medals went to the Toruń olympians, Katarzyna Zillmann and Mirosław Ziętarski. The student of sociology finished after 08:25,29 and the student of national security - 07:31,57.
The female double scull, Paulina Grzella and Barbara Streng, won the third place and the Polish Senior Championships bronze medals. The two competitors represent BTW Bydgoszcz: Barbara Streng is a student of physiotherapy at Collegium Medicum and Paulina Grzella is a tourism and recreation freshman.
Most of the senior crew will move from z Poznań to Wałcz right after the Championships. The competitors will continue training till 5 October to finally move to Poznań where the Polish Senior Championships will be held from 9 to 11 October. Student sportswomen and sportsmen from our University, Katarzyna Zillmann, Paulina Grzella, Fabian Barański, Mirosław Ziętarski, have been incorporated to the national representation team.
The NCU Sports Association (AZS UMK Toruń) crew: four without coxwain (4-KA) - K. Ostrowska, A. Zielepuha, K. Malinowska, S. Jasińska (AZS UMK Toruń) - 07:25,78.
The male eight with coxwain (8+MA): P. Wojtalak, J. Frąckowiak, W. Szwarc, W. Chabel, M. Januszewski, D. Glonek, J. Kaczmarek, D. Józefowicz, M. Danielewicz (Posnania RBW Poznań).