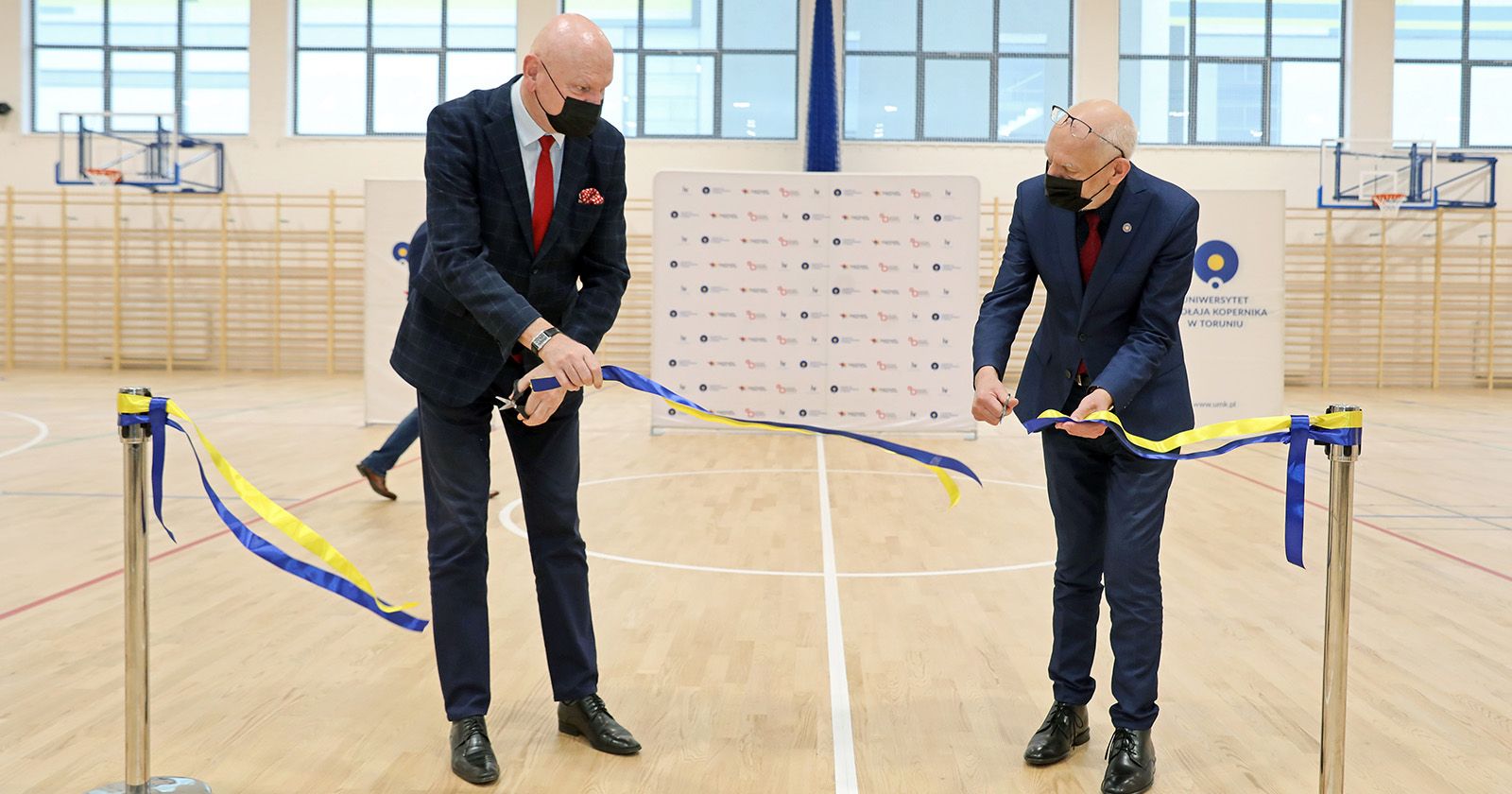 Sports
Sport in first-class conditions
— Editors
A multi-purpose sports hall, professional therapy rooms, soccer pitches and tennis courts are just some of the facilities that make up the new part of the University Sports Center (USC), which has just opened.
During the opening ceremony of the enlarged University Sports Center, which took place on 23 November 2021, the symbolic ribbon was cut by Prof. Andrzej Sokala, NCU Rector and Michał Zaleski, Mayor of the city.
The second phase of the USC construction included a modern sports complex to complement the existing university facilities at 35 Gagarina Street and Św. Józefa Street. The open part, framed by a 500-meter running track, consists of a soccer field, a multifunctional sand pitch, and courts. The sand field complex will accommodate beach soccer, handball and volleyball matches. The outdoor space has also been created to accommodate fitness sports and playgrounds.
In the closest vicinity of the existing USC hall at 17 św. Józefa St., a second multi-purpose, two-sector sports hall was designed. On the first floor there is a checkroom complex of the hall and outdoor sports fields. On the first floor there are also administrative rooms and a lecture-conference room.
A significant portion of the facility is occupied by an activity lab and a sports rehabilitation center equipped with instruments and equipment for sports diagnostics. The new USC also houses a comprehensive wellness area with cryotherapy, hydrotherapy and sauna rooms.
The total area of the land on which the investment was carried out is nearly 36 thousand m2. The built-up area amounts to over 14 thousand m2, most of which is the outdoor sports infrastructure. The project cost over 20 million zlotys, including 2 million of municipal subsidy.
The complex will be used primarily for educational purposes. The offer of physical education classes will be significantly improved, and students of the following UMK sport courses: Sport and Wellness, Tourism and Recreation, and Physical Education and Sports will have a modern, properly equipped place for practical classes. Special sport, recreation and wellness programmes will be addressed to the whole academic community.