On 19 February, the birthday of its patron, the Nicolaus Copernicus University celebrates its University Day. However, due to the epidemic situation, the usual celebrations did not take place this year. - The way we are celebrating the University Day this year is a symbol of all the restrictions and sacrifices we have had to accept for months - said the Rector of the University of Nicolaus Copernicus, Prof. Andrzej Sokala, in his speech.
Due to the COVID-19 pandemic this year - for the first time since the University began celebrating Nicolaus Copernicus' birthday - the event in the Aula was cancelled in order not to expose members of the academic community and guests. On the occasion of University Day, the University authorities placed flowers at the monuments of Nicolaus Copernicus and Rector Ludwik Kolankowski. The NCU Rector also addressed the staff, students and doctoral students as well as all friends and supporters of the Nicolaus Copernicus University.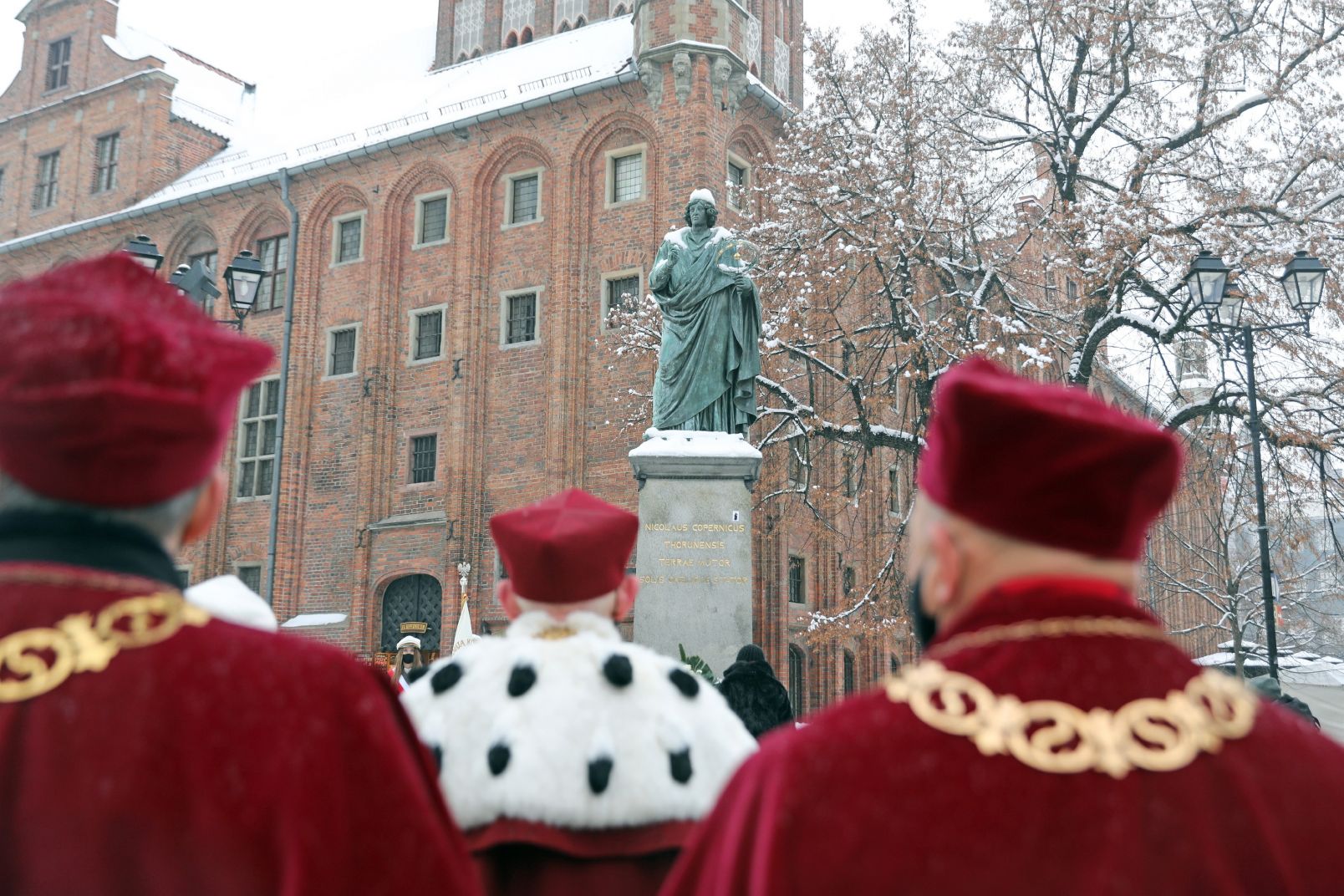 Representatives of the Kujawsko-Pomorskie Voivodeship and the City of Toruń expressed their best wishes for the University on the occasion of its celebration.
On University Day we also learnt about the winner of the international Ratio et Spes scientific award, Professor Hans Joachim Schellnhuber, a theoretical and atmospheric physicist who researches climate change and its consequences.
Nicolaus Copernicus' birthday and the University Day are also an opportunity for more NCU faculties to say goodbye to their graduates. As in the autumn (in the first round), due to the pandemic, faculty members poignantly said goodbye to their leaving students in the form of films rather than - as in previous years - at graduation ceremonies.
The premiere of the "Goodbye!" (Round II), featuring footage from the CM Faculty of Health Sciences, the Faculty of Earth and Spatial Sciences, the Faculty of Fine Arts and the CM English Division, took place on Friday 19 February at 6pm.